Can you believe it's been half a decade since the final season Dan Schneider's hit show "iCarly" aired? The show and its amazing cast have definitely stayed with us after all this time. Seriously though — who can forget Carly, Sam, Freddie and the rest of the gang? Not us; not them; not ever!
What you may have forgotten, though, are the totally awesome celebrity appearances on "iCarly." Nickelodeon has always been a talent magnet, but this roster is really something else.
For an extra-fun throwback, take a look at these 5 huge stars and their guest appearances on "iCarly!"
1. Emma Stone The Golden Globe and Oscar winning "La La Land" star and Oscar played a (crazy!) fangirl named "Heather" on the episode "iFind Spencer Friends." In this scene, she shakes the crew down for selfies after spotting them at a restaurant.
Five years and plenty of great movies later, we're sure Emma has millions of over-the-moon fans of her own!  
2. Jack Black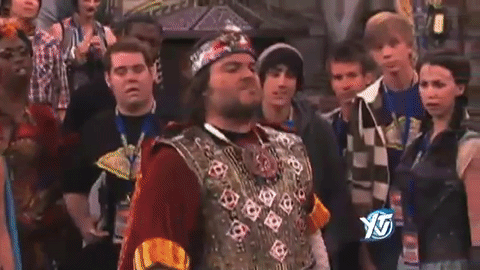 The "School of Rock" legend — who costarred with Miranda Cosgrove way back when  —  played Spencer's "World of Warlords" rival in the episode "iStart a Fan War." A worthy foe indeed!
3. Jane Lynch Ever wonder what actress could possibly live up to Sam's descriptions of her rough-and-tough mama? The one and only Jane Lynch! Sure, the two fought almost the entire episode. But Jane is at her best when she's feisty.
4. Michelle Obama The former first lady made an appearance as herself on "iCarly" in the episode "iMeet the First Lady!" The gang met her after hacking into the US military in an effort to reach Carly's father on his birthday. Pretty cool, sure, but please don't try this at home!
5. Jim Parsons Lastly, fans were thrilled when Jim Parsons from "The Big Bang Theory" showed up in the episode "iLost My Mind" as a patient at a mental hospital/potential time traveler. If aliens capture Ryan Seacrest in the year 2029, don't forget this episode!
What famous guest-stars do you remember from the Schneiderverse? Tweet @DanWarp! 
---
"iCarly" is an American teen sitcom, starring Miranda Cosgrove, Jennette McCurdy and Nathan Kress, which aired on Nickelodeon for seven seasons, from 2007 to 2012. "iCarly," created by Dan Schneider, follows a teen girl named Carly who has her own webcast. The series was produced by Dan Schneider, an American actor, TV and film actor, and producer.
If you're a huge fan of Dan Schneider's "Game Shakers," then you probably know there's an app out called "Ballarina." It's a fun game where you basically smash your way through insane race tracks to finish first against other racers.
Among the things you can smash into are running butts, ballerinas, and exploding daisies. Based on the description alone, you can tell this game is unforgettable.
Did you catch the Game Shakers using their high-tech motion capturing software to build the game? Check it out in this hilarious clip from "Babe's Bench"— the crew tests out the new game idea with real-life ballerinas. Well, maybe not actual ballerinas… but close enough.
While Hudson loads himself up into a blow-up ball, Triple G sets up all the "ballerinas." Not long after, Hudson comes barreling down the floor, knocking them off their feet one by one.
Trip is more than pleased, exclaiming that the game is "fun for the whole family." We're going to go out on a limb here and guess it's a little less fun for the ballerinas, though!
As hilarious as it is watching live ballerinas get blown off their feet, it's just as fun doing it yourself in the game. Even better: no real ballerinas, daisies, or butts are actually harmed! It's all digital, dude.  
In the game, players get to roll around as their own customizable zebra, wearing different costumes and other special items too. With so many power-ups lying around the track, you can make things interesting when playing with friends or random opponents.
"Ballarina" is free on the Google Play Store as well as the Apple iTunes Store, so go download it right away!
---
"Game Shakers" is an American live-action sitcom, created by Dan Schneider, currently airing on Nickelodeon. The series stars Cree Cicchino and Madisyn Shipman as pre-teens that start a multimillion dollar gaming company and take on a rap superstar, played by Kel Mitchell, as their business partner. The series is produced by Dan Schneider, an American actor, TV and film actor, and producer.
We all have things in our past that we aren't so proud of…
Whether it's a ridiculous baby picture, a cringe-worthy tween journal entry, or that inexplicable hair choice on picture day, if you go about your life hoping that no one ever convers one particular detail of your past—well, take solace. You are not alone!
For Quinn Pensky, the smartest student at PCA (and Zoey's best friend) on "Zoey101," that source of historic shame is a video from when she was five, performing a ribbon dance routine in a beauty pageant.
When an old acquaintance from her pageant days (special guest Janel Parrish) shows the video to her friends, she gives away Quinn's not-so-deep, dark secret. And yes, it's pretty cute—in everyone's opinion but Quinn's, anyway!
What's so bad about a beauty pageant, anyway? If you know Quinn, just about everything. As a young, female innovator that prides herself on her intelligence and "Quinnventions," it's easy to see why she'd think this revelation could tarnish her reputation.
As Quinn frantically explains, "It was before I turned seven and realized my true passion for intellectual superiority over all others!"
When her then-boyfriend Mark assures her that the video is nothing less than adorable, and doesn't diminish anyone's respect for her, Quinn's panic subsides. She even puts on a little show for him. It turns out one can be intellectually superior and great with ribbon routines!
At the end of the day, it's clear that Quinn had nothing to be worried about. That's kind of how it goes: the things in the past that embarrass us most aren't ever nearly as bad from an outsider's perspective. And let's face it, at age 5, just about everything you do is cute.
Whatever the case, remember that your mistakes and secrets may be part of you, but they don't change a thing about the unique person you've become since—especially to those that care for you most!
---
"Zoey 101" is an American teen drama series created by Dan Schneider. "Zoey 101" aired on Nickelodeon for four seasons, from 2005 to 2008, starring Jamie Lynn Spears and Paul Butcher as brother and sister attending boarding school in Southern California. The series was created and produced by Dan Schneider, an American actor, TV and film actor, and producer.
Schneider's Bakery
Nickelodeon's hit show "Henry Danger," created and produced by Dan Schneider, became a sensation for its lovable cast, goofy plot lines and truly awesome superheroes. Captain Man, Kid Danger and the gang have been lighting [...]
Schneider's Bakery
Summer has officially arrived, and we couldn't be more stoked! Now that the season is finally here, it's the perfect time to talk about Nickelodeon's "Sizzling Summer Camp Special," an hour-long event featuring some of [...]
Schneider's Bakery
Hey, Dan Schneider fans! Do you love love love "Henry Danger?" Are you obsessed with "Game Shakers?" Well, buckle up, but because we have something HUGE to talk about: It's a CROSSOVER! Dan Schneider has [...]