Nostalgia is a super-powerful force, especially when it comes to TV shows from yesteryear. Some say today is the Golden Age of TV, but people are still wistfully looking back at their favorite shows and characters from their childhood! In some cases, said TV characters have delighted fans with triumphant returns to the small screen.
Some networks have gone the revival route, bringing back full series years later. "Boy Meets World" spawned "Girl Meets World," Netflix revived "Full(er) House" and "Gilmore Girls," and "Will & Grace" will return to NBC this fall.

The Dan Schneider universe (also known as the Schneiderverse) has been on top of this trend for a long time, though in ways you might not have expected. Instead of bringing back entire shows, Nickelodeon has strategically given fans a peek into their favorite characters' futures with crossovers, video clips, guest appearances and more!
Here are a few of the best:
Surprise Guests on "Sam & Cat"
Chase and Michael aren't the only character from "Zoey 101" to emerge from the woodwork years later. More than one made an appearance on "Sam & Cat," starting with Stacey Dillsen, the lovable nerd known for her lisp, her bad luck, and her manic obsession with cotton swabs.
In the "Sam & Cat" episode #MadAboutShoe, Stacey gets hit by a car, leaving behind a beautiful pink shoe that Cat fawns over. When the gang tracks the shoe to Stacey, we learn that she's now a sophomore at San Francisco University, has regained her lisp, and (unfortunately) has no friends.
"Zoey 101"'s Coco Wexler also makes an appearance on "Sam & Cat." After meeting the girls by chance in an airport, it's revealed that Coco had married and divorced Carl since the end of "Zoey 101," who went on to get engaged to her mother. Coco is on their way to the happy couple's wedding in #FirstClassProblems. One thing that hasn't changed? Coco still loves ravioli.
Herb from "Sam & Cat" on "Henry Danger"
Paying it forward, a character from "Sam & Cat" recently appeared on one of Dan Schneider's newer shows, "Henry Danger." Herb, a loveable guy who's either homeless or a billionaire (yet to be determined), popped up in Swellview to buy a condo in the episode "Secret Beef."
Herb's appearance marks the first time another Dan Schneider character showed up on "Henry Danger," but he certainly won't be the last!
"Zoey 101," 10 years later
When the series wrapped up, even some of the most satisfied fans of "Zoey 101" had a few lingering questions. One being, what on earth did Zoey say about Chase in her time capsule in season 2?!
Lo and Behold, Dan Schneider gave fans answers in 2015 with an exclusive video clip showing Chase's whereabouts, ten years after the time capsule and seven after the series' end. The mini-episode shows Chase about to propose to another girl, when he's interrupted by his best friend Michael, also a "Zoey 101" alum. The clip was covered by Variety, among other news outlets.
SPOILER ALERT: Zoey says "All I know for sure is, Chase is really special to me, and who knows, maybe he's even my soulmate." Cue Chase running out the door to get the girl!
Freddie Benson on "Game Shakers"
Dan Schneider's other new show, "Game Shakers" is poised to bring back at least one of the greats. One fans can look forward to is the return of Freddie Benson from "iCarly," played by Nathan Kress. The Game Shakers, obsessing over the Sam-Carly-Freddie love triangle, track Nathan down when he's in NYC to find out what he's up to, and which girl he prefers.
Will we find out about the love triangle? Only time will tell. What we do know for sure is that Freddie has a career in film, and is still (at least!) friends with both Sam and Carly.
When "Good Burger" returned!
Last but not least, the 2015 reunion of Kenan Thompson and Kel Mitchell for another "Good Burger" sketch may be the most iconic reunion ever for Dan Schneider fans. Staged by Jimmy Fallon, the seven minute skit revisits "Good Burger" and ends with an epic musical number.
It turns out Ed (Kel) is finally superviser — Jimmy's, to be exact — and Lester (Kenan) is still an irritated construction worker with no time for Ed's shenanigans! And though it may be "biologically improbable" he's their real dad, we think Lester should just go ahead and adopt Jimmy and Ed anyway. They would be the best family ever, and the fries would runneth over for all.
---
Dan Schneider is an American actor, TV and film actor, and producer. Dan Schneider has devoted his life to behind-the-scenes production of hit shows on Nickelodeon including "All That," "The Amanda Show," "Kenan & Kel," "Drake & Josh," "Zoey 101," "iCarly," "Victorious," "Sam & Cat," "Henry Danger," and "Game Shakers."
Who loves orange soda? Kel loves orange soda. And who loves Kel Mitchell? Well, that's an easy one: just about everyone who has seen him perform! This includes, at the very least, viewers of "All That" and "Kenan & Kel," plus fans of Dan Schneider's current hit, "Game Shakers."
Kel's 23-year career has been chock-full of comedic triumphs and goofy, memorable characters. Here are a few career highlights to refresh your memory, and catch you up with his impressive body of work!
All That

At 16, Kel kicked off his career with one of his best-known shows, Nickelodeon's all-kid sketch comedy "All That." Among other iconic characters, Kel played the zany substitute Coach Kreeton, the ineffective superhero "Repair-man-man-man," the foolish Good Burger employee Ed, Okrah ( an Oprah parody), elderly gentleman Clavis, and Earboy's sensitive pal Pizzaface.
Kel rocked the "All That" stage for five delightful seasons, and while we were sad to see him move on, all was not lost. Because that brings us to our next career highlight…
Kenan & Kel


If there's one catch phrase Kel is most known for, it's "Who loves orange soda? Kel loves orange soda" followed by "I do I do I do, oooo-oooo." These lines are straight from "Kenan & Kel", where Kel Mitchell played Kel Kimble, a fizzy drink enthusiast and occasionally-clumsy partner in crime to his best friend, Kenan.
The critically acclaimed TV show was known for breaking the fourth wall by having Kenan and Kel come out on stage and address the audience at the beginning and end. Inevitably, Kenan would suggest some form of hijynx that Kel knew nothing about, then dart offstage, prompting Kel's second catchphrase, "Awwww here it goes."

Good Burger
Kel's movie debut, produced and directed by Dan Schneider, was "Good Burger," a spin off the famous "All That" sketch. Kel reprised his role as Ed, while Kenan played a student named Dexter who, after taking a summer job at Good Burger to pay a fine, decides to make money off a special sauce invented by Ed. Chaotic antics, as always, ensue.
Two years later in 1999, Kel would land a starring role alongside Ben Stiller and Greg Kinnear in "Mystery Men," a gut-busting comedy about a group of superheroes with unimpressive powers (Kel played Invisible Boy).
Production and Writing Debut
After "Kenan & Kel" ended in 2000, Kel took a hiatus from Nickelodeon and dabbled in other film, TV, stage productions, and even music video roles (he appeared in the Kanye West video for "All Falls Down.")
Production debuts being a defining moment for most actors, Kel was able to autonomously exercise his creative comedy style in "Dance Fu," a comedy he co-wrote, produced, and starred in. The straight-to-DVD movie is an underrated gem, and Kel fans will certainly appreciate how Kel plays both the protagonist (a dancer named Chicago Pulaski Jones) and the antagonist (a villain named Pretty-Eyed Willy.)
Return to Nickelodeon
In 2013, Kel made a triumphant return to Nickelodeon with a guest appearance on Dan Schneider's "Sam & Cat." In the episode, he played a character called "Peezy B," a rapper who, impressed by Sam's style, hired her to be his personal assistant.
Following the episode, #PeezyB trended on Twitter as fans reacted to Kel's appearance, sending new ripples of excitement into the Schneiderverse. And as many of you know, Peezy B set the stage for Kel to expand upon his rapper persona when he made an even bigger return to Nickelodeon as a lead character on Dan Schneider's "Game Shakers."
Game Shakers
Since 2015, Kel Mitchell has starred as superstar rapper Double G on Nickelodeon's "Game Shakers," a show about a close-knit group of teens running a gaming startup. Double G is the company's chief investor, and father of Triple G, the company's official game consultant.
According to creator Dan Schneider, as reported by Variety, "When Kel is doing scenes on our new show, 'Game Shakers,' we all laugh so hard on set, just like we did 20 years ago…. It feels new, but also very familiar. Sometimes I have to think to myself, 'Wait, is this 1995 or 2015?'"
It's clear that in 2017, Kel's comedic genius is as sharp as ever, making kids today love him just as much as he loved orange soda way back when. Long may he reign and entertain!
---
Dan Schneider is an American actor, TV and film actor, and producer. Dan Schneider has devoted his life to behind-the-scenes production of hit shows on Nickelodeon including "All That," "The Amanda Show," "Kenan & Kel," "Drake & Josh," "Zoey 101," "iCarly," "Victorious," "Sam & Cat," "Henry Danger," and "Game Shakers."
What's the best part of Nickelodeon's "The After Party?" Now, that's a loaded question. Could it be getting the inside scoop from our favorite actors on "Game Shakers" and "Henry Danger"? Or the fact that the segment recently aired on TV? Or maybe it's the amazing games that the show's host Karen (AKA Karen… just Karen) plays with the actors?
Maybe, just maybe, it's all of this and more. Still, we have to admit that games are pretty high on the list! It's so much fun to watch Nickelodeon actors get pelted with dodgeballs, answering fan questions, desperately trying to pop balloons, eating corn with their hands tied behind their backs, and generally acting like lunatics behind the scenes. Even better, these games are easily replicable so you can play them at home — all it takes is a little imagination and equipment of your own.
Here are 6 super-cool "After Party" games you don't want to miss!
1. The Anti-Gravity Contest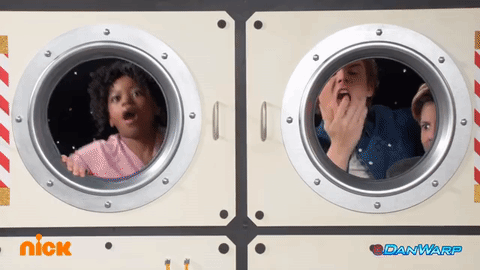 Who is the most convincing anti-gravity floater? The cast of "Henry Danger" competes for a healthy portion of "astronaut meat." The contest's judge, Cooper Barnes ("Henry Danger"'s Ray/Captain Man), wastes no time picking himself and Ella Anderson as the winners. Impressive since Cooper didn't actually compete in the competition!
2. Draw Your Castmates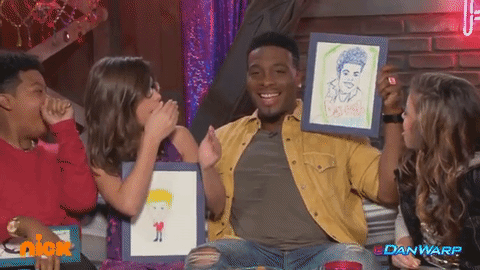 The cast of "Game Shakers" put their drawing skills to the test in this SUPER fun challenge! Ummm, can we get Kel's "Lil P-Nut" masterpiece printed and framed, please? Bravo!
3. Paparazzi Playtime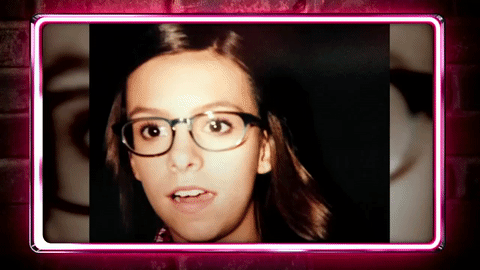 For this game, Karen gave the "Game Shakers" cast members disposable cameras a few days in advance and instructed them to sneak up on one another to capture unexpected moments on set. The results, let's just say, range from flabbergasting to fabulous!
4. Tooth or Dare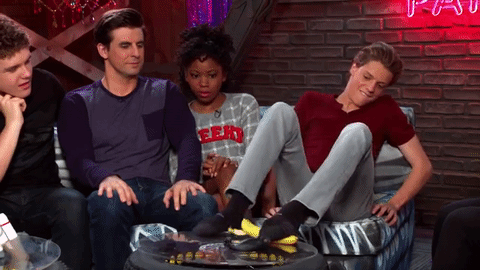 Karen invites her dentist on the show to play "Tooth or Dare" with the "Henry Danger" cast. After flipping a coin, those that land on "tooth" get a dental fact, and those who get dare have to, for example, unpeel their least favorite fruit with their feet. We'll never look at a banana the same way.
5. The No-Handed Balloon Pop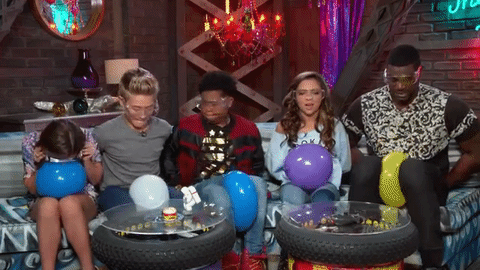 Ever tried to pop a balloon without your hands or feet? The "Game Shakers" cast was given a reason to (*cough* PRIZES) during this zany "After Party" segment. Maddie Shipman wins, while Shel Bailey (who plays Ruthless) clearly skipped leg day.
6. Dodging Questions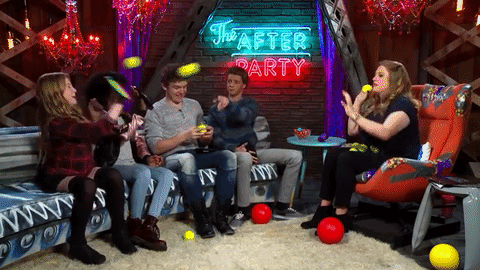 In this game, the cast of "Henry Danger" gets to answers fan questions once they catch styrofoam balls zooming their way. Watch the video to find out if Henry will get a girlfriend this season, and whether or not Ella will be taking a trip to Kazakhstan this summer!
Don't forget to watch more "After Party" segments on DanWarp's Youtube Channel!
---
"Game Shakers" is an American live-action sitcom, created by Dan Schneider, currently airing on Nickelodeon. The series stars Cree Cicchino and Madisyn Shipman as pre-teens that start a multimillion dollar gaming company and take on a rap superstar, played by Kel Mitchell, as their business partner. The series is produced by Dan Schneider, an American actor, TV and film actor, and producer.
"Henry Danger" is an American superhero TV comedy, created by Dan Schneider and Dana Olsen, currently airing on Nickelodeon. The series follows a 13-year-old boy, played by Jace Norman, who lands a job as the sidekick of a local superhero. "Henry Danger" is produced by Dan Schneider, an American actor, TV and film actor, and producer.
Follow Dan Schneider on Instagram!
Schneider's Bakery
Looking to make your week a little more animated? It's time to "toon" in to an epic journey with some of your favorite Schneiderverse characters. That's right, during a special "Henry Danger" hour on Monday [...]
Schneider's Bakery
Nickelodeon sure knows how to propel its stars to victory! The former star of Dan Schneider's "Victorious", Liz Gillies, is taking her own steps towards professional success with a lead role on the hit TV [...]
Schneider's Bakery
"Drake & Josh" is one of Nickelodeon's most successful sitcoms. From popular lines like "Hug me brotha," to "I ain't callin' you a truther," this duo has created countless memories for millions of people. Fans [...]